Trusted globally by the world's leading & fastest growing companies

Pull the levers to impact this quarter's revenue
Automate activity capture in Salesforce
Automatically update every contact, calendar and record to precisely match your sales reality.
Score every sales engagement
Go beyond activity to understand how engaged your pipeline is and where the risks to revenue are.
Prioritize relationships, warm introductions and identify the decision makers to close deals faster.
Improved forecasting & pipeline visibility
Actionable insights. Meaningful dashboards. Clear direction.
One team engaged with each customer
Build stronger relationships across the sales cycle by knowing who's engaged with who, when, and why.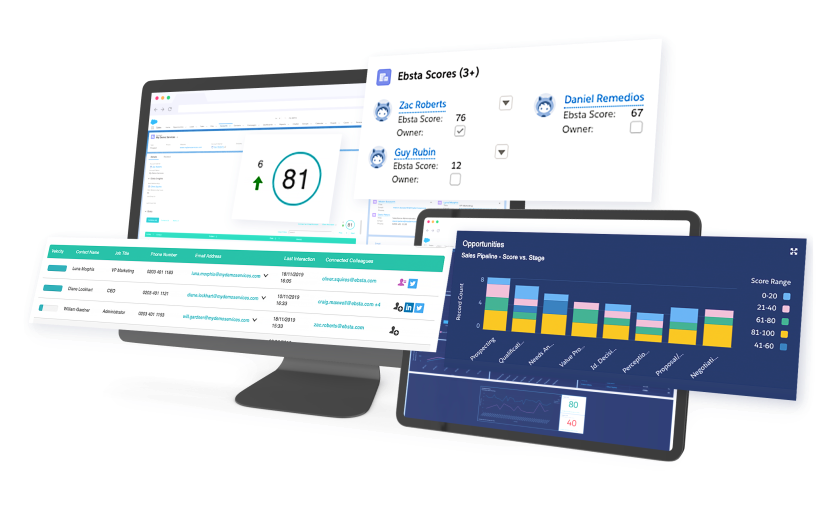 Ebsta Team
Gain full visibility across your organization by automatically bringing every record and historic engagement into Salesforce and surfacing missing information.
Add a deeper level of reporting to Salesforce by scoring every engagement to understand the strongest relationships, the activity to prioritize and how to optimize revenue.
Use data-driven insights and intelligence taken from every customer engagement to make smarter moves across your entire revenue operation.
Ebsta Inbox
Everything exactly where your reps need to sell smarter and faster.
Leverage a suite of sales enablement tools directly from you inbox and add eight hours of sales time every week by removing manual data entry.
Secure your free trial today of the #1 inbox integration and join over 10,000 users in bringing the power of Salesforce to your Inbox.
Learn more
Our customers
Say it better
"The biggest immediate benefit of Ebsta was the automatic connection, single management and indication of engagement with the right record in Salesforce"
"Ebsta ensures Salesforce is alway up to date. This has been a huge benefit for our customer success team, who now have complete visibility of all communication taken place during the sales process."
"Ebsta's window that sits in Salesforce was the biggest win for us. There's nothing on the market that can match it!"
"Ebsta Sync is a tool that's been needed for a long time. My sales team are now spending more time engaging with prospects instead of inputting data into Salesforce."
"My team has been thrilled with Ebsta and the seamless integration between our Salesforce and Gmail accounts.it's saved us on more than one occasion from potential data slip-ups and missing info."
"Ebsta allows us to save emails automatically into Salesforce. This has proven to be really efficient and allows our users to quickly access data and easy edit records without logging into Salesforce."
"Ebsta made the data in our Salesforce so much more reliable, so I know I'm running accurate reports. Data alerts and mass updates for errors are particularly useful."
Impact your revenue with Ebsta
Map every business relationship and score your engagement with them.
Predict the deals unlikely to close, the relationships that need attention and add a new level of forecasting to your sales operations.